Trainees
Current Trainees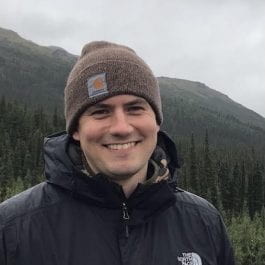 Lucas Carter
Graduate Student

Lucas graduated with a BS in molecular biology from The Evergreen State College (Olympia, Washington) in 2015. From 2015 to 2020, he worked as a research technician in the lab of Patrick Paddison at the Fred Hutchinson Cancer Research Institute (Seattle, Washington), where he applied functional genomics tools to the study of Glioma. In 2021, he joined the Interdisciplinary Biological Sciences graduate program and Dr. Vadim Backman's lab as a new graduate student. Lucas is interested in using computational genomics and functional genomics to study the physical characteristics of the human genome, and applying these studies to find novel druggable cancer targets. His current project focuses on the relationship between chromatin remodelers, nuclear genome organization, and transcriptional regulation.

Raymond Fang
Graduate Student

Trained in both physics and medicine, Raymond Fang seeks to utilize recent advances in optics and genomics to model physiology related to various pathologies. Currently, he is using vis-OCT to image the conventional outflow pathway of the eye, with alterations in this outflow pathway important in the pathophysiology of glaucoma, the leading irreversible cause of blindness worldwide. Vis-OCT provides micron scale resolution in vivo and can be used to measure tissue properties. The goal of the project is to relate physiological measurements provided with vis-OCT to genomic data and study how changes in gene expression may impact local physiological properties. Raymond plans to become a physician-scientist using novel techniques in engineering and biology to develop new therapeutic paradigms. 

Jorin Graham is a Physics PhD student at Northwestern University, where he is advised by Adilson Motter (primary mentor) and John Marko (secondary mentor). His research uses tools from physics, scientific computing, and data science to study the dynamics of complex biophysical systems in which novel behavior emerges at the system level from interactions between the individual parts. He is particularly interested in how a complex-systems approach can be used to understand and control cell behavior. His current research focuses on developing computational tools to predict the impact of genetic and chemical perturbations on the three-dimensional conformation of chromatin in cells.

Samuel Hamilton
Graduate Student

Sam Hamilton's project involves using microscopy to observe if chromatin organization differs between macrophage subtypes and whether it affects their responsiveness to infection. As a computational biology student at Feinberg School of Medicine, he is broadly interested in developing methods to make high-dimensional sequencing assays more interpretable and amenable for predictive modeling. Outside of the lab, he enjoys biking, gaming and drawing.

Sophia Lamperis is a PhD student in the Driskill Graduate Program in the Life Sciences at the Feinberg School of Medicine. She received her B.S. in Biological Sciences with a specialization in Global Health Sciences from the University of Chicago. As a trainee in the Physical Genomics Training Program, her thesis project investigates the role of the E3 ligase TRIM25 as a regulator of prostate cancer metastasis. Her project aims to establish a neural network of interactions at the systems biology level to depict the roles of TRIM25 as an E3 ligase and as a transcription factor in prostate cancer.
Sara Radecki
Back to top