Jayms Peterson Named Senior Director of Operations and Outreach of the CPGE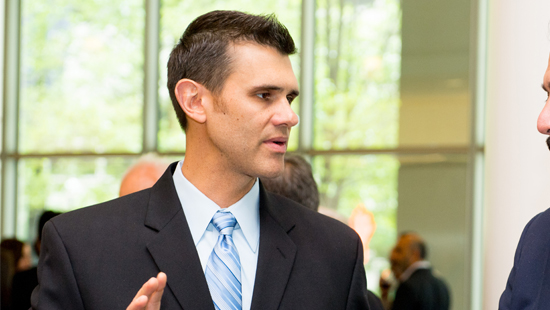 Jayms Peterson has been named Senior Director of Operations and Outreach of the Center for Physical Genomics and Engineering (CPGE) in the McCormick School of Engineering at Northwestern University. The Center, led by Northwestern Engineering's Vadim Backman, uses breakthrough optical imaging and computational genomics to reprogram the genome's chromatin, which regulates gene expression, in order to treat disease and engineer living systems to overcome environmental challenges. Backman recruited Peterson to manage CPGE due to his exceptional administrative and scientific background.
Peterson received his Bachelor of Science degree in Bioengineering from the University of Illinois, Champaign/Urbana and his PhD in Neuroscience from Rosalind Franklin University of Medicine and Science. Prior to joining CPGE, he managed the day-to-day operations of the Feinberg School of Medicine Medical Scientist Training Program (MSTP) and served as student advisor and advocate. There he helped oversee program recruitment and growth in NIH support of the University's largest T32 Training Grant. Preceding his time with the MSTP, he worked in the lab of James Surmeier, chair of the Department of Physiology at Northwestern, as a research associate and studied the neuropathology of dopaminergic CNS disorders. He has published numerous manuscripts and been funded by both the National Institutes of Health and private foundations.
In addition to his research and administration background, Peterson has taught at Lake Forest College and Northeastern Illinois University and helped develop, implement and oversee the MSTP course curriculum at Northwestern. His skills and the network he has established will be useful in helping CPGE grow across disciplines at Northwestern.